The lockdowns have spawned a number of beauty trends. A quick scroll through Instagram or TikTok gives you a ton of DIY haircuts, hair colors, and dramatic makeup tips. Lots of people have turned to beauty projects to fill their time, as well as to help them cope with the stress and anxiety from the pandemic.

Makeup has evolved into an art form of its own – you need only look at today's pop icons like Lady Gaga, Rina Sawayama, and Ariana Grande – and has inspired people to express themselves and be confident enough about how they look to share stunning selfies online. So with that in mind, we've rounded up some tips for you to help you level up your makeup selfies:

Experiment with angles
When taking a selfie, it's important to feel that you're showcasing your best self. Everyone is partial to the "good side" of their face, and that's okay, too. But taking selfies from the same angle every time could become monotonous on your feed.

Try tilting your head from different sides and angles. You may even find a new "good side" that you've never seen before! You can take a cue from Instagram sweetheart Kylie Jenner and experiment with tucking your chin down a bit and tilting your head to the side. A great trick is to get the light to catch on your cheeks, making the highlights pop, no matter which angle that may be. And don't forget, you can also adjust the angles from the camera's end for even more variety.

Include props
While it's true that a makeup selfie should focus on your face, that doesn't mean you can't get creative. Looking straight into the camera could make you feel awkward and your picture might end up looking plain at times.

But look around you, there are tons of things you can use as props. You could use your favorite houseplant as a background or highlight, or your cute turban to top off your look. Even your hand can be a great prop – incorporating your hand into a selfie, like resting your chin on it, gives your photo a very natural and relaxed feel. Indeed, props can be the difference between a plain picture and an editorial take.

Find your light
Natural light is a godsend. However, you don't always have the luxury of shooting under natural conditions. Sometimes, the best option is your own light source. This doesn't just give you steady lighting, it also makes your makeup selfies look more consistent, polished, and professional. Adorama's photography gear features mobile-friendly equipment that you can use to improve your selfies. Ring lights, in particular, have become staple quarantine tools.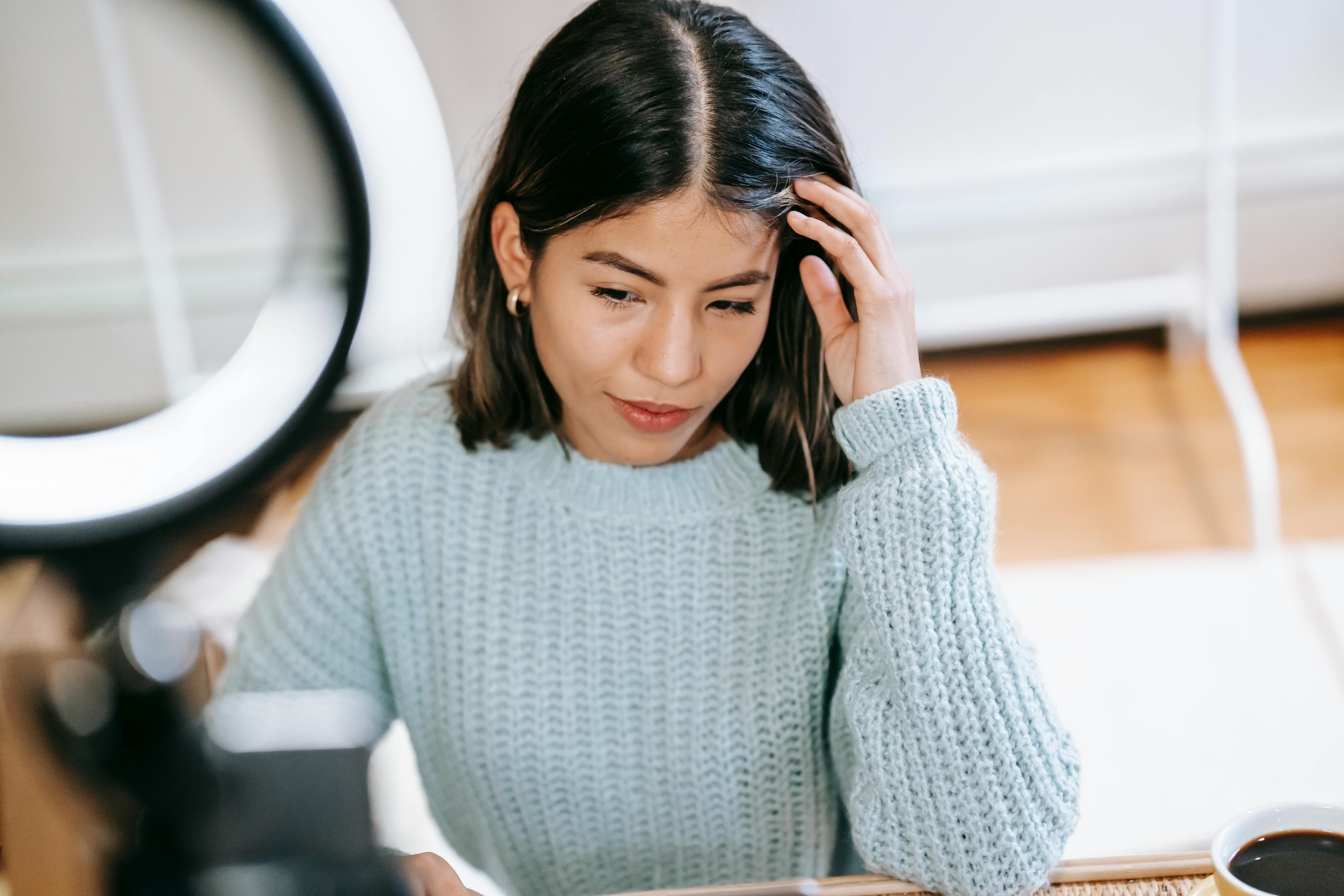 Right lights often come with mobile phone mounts so you can take phone selfies that look expertly done. You can get a basic tabletop one like the Vivitar Go Live LED Ring Light for just $14.99, or you could even get the fancier – we're talking $30 here – LanParte Bi-Color LED Ring Light, which gives you the option to choose between white and warm lighting. When you're done taking selfies, you can use these ring lights for Zoom conferences.

Use the Rear Camera
If you're using your mobile phone to take selfies, opt for the rear camera instead. As seen on PC Mag's best camera phones, rear cameras often have better resolutions than front cameras. Of course, the type of phone matters, too — the list cites the Samsung Galaxy S20+ and the iPhone 12 as the best phones for photography.

Of course, it can be challenging to take selfies when you don't see the screen. There are a couple of ways to work around this: shooting in front of a mirror or connecting your phone to a monitor or your laptop.

Now, gather your makeup brushes and start working on your next hit makeup selfie. Do, check out our beauty page for even more tips on makeup and skincare.